DESCRIPTION
COLOR SYSTEM
HOW TO USE
What it is
7-colors for eye & cheek multi-palette resembling pink color galaxy
---
How to apply

1. Apply base color on the entire eyelids.
2. Apply gradation or point color on the tail of the eyes and along the eye line.
3. Express pearl tone with glitter.
4. Apply blusher on the cheeks and blend naturally.
---
Caution
1. Use only as directed.
2. Do not use on spots with injury, eczema, or dermatitis
3. Keep out of reach of infants and children.
4. Do not store in a place with high and low temperature and direct sunlight.
See more pictures: https://www.instagram.com/etudehouseofficial/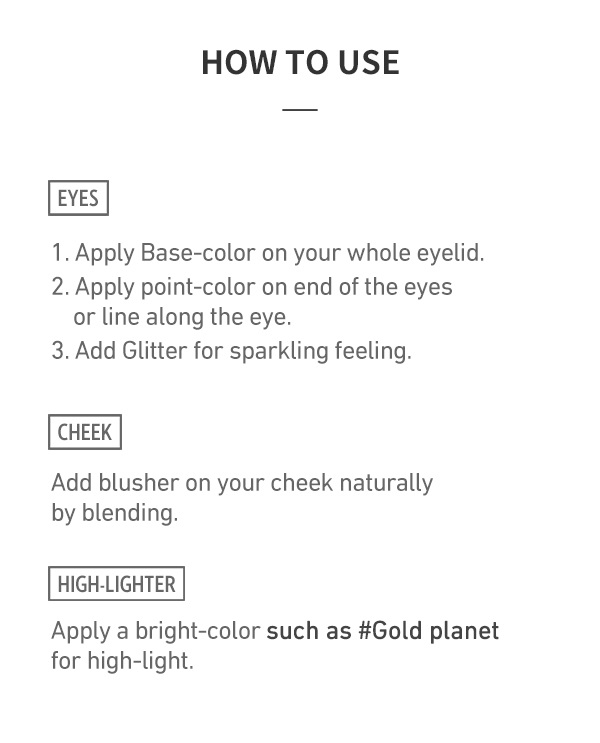 Details
| | |
| --- | --- |
| Weight (g) | 102 |
| Size | 1 g X 6 |
| INGREDIENTS | |
Customer Reviews
LOCATION:

United States

SKIN TYPE:

Sensitive

EYES COLOR:

Blue

SKIN TONE:

Fair

AGES:

I got the golden galaxy palate and I love all the colors, though some of the glittery ones look a little similar unless I apply them thickly. Only negative for me is that the mirror in the compact broke very quickly! Otherwise I would consider getting the other palate as well.

LOCATION:

Brazil

SKIN TYPE:

Combination

EYES COLOR:

Brown

SKIN TONE:

AGES:

I love the shades of this palette, its more neutral than pinky galaxy, but its also cute. The package is awesome, very cute.

LOCATION:

Brazil

SKIN TYPE:

Combination

EYES COLOR:

Brown

SKIN TONE:

AGES:

I love the shades of this palette, its more neutral than pinky galaxy, but its also cute. The package is awesome, very cute.

LOCATION:

Brazil

SKIN TYPE:

Combination

EYES COLOR:

Brown

SKIN TONE:

Medium

AGES:

19 ~ 24

Cute and long lasting colors, it stays in my eyes all day long. Just love it, package is great too

LOCATION:

Chile

SKIN TYPE:

EYES COLOR:

SKIN TONE:

AGES:

the packaging of this palette is my favorite out of the two the color range it is quite pretty and suitable for people who prefer more neutral or earth tones the highlight shade is my favorite and you can use it however you want

LOCATION:

Chile

SKIN TYPE:

EYES COLOR:

SKIN TONE:

AGES:

this is my favorite range colours out of the two if you like pink or purple shades this one is for you the colours are very pretty and the performance of the shadows are good too you can make romantic looks with this one also the blush is natural or has a bit of glitter in it

LOCATION:

SKIN TYPE:

EYES COLOR:

SKIN TONE:

AGES:

Nothing much to say... just AWESOME