DESCRIPTION
COLOR SYSTEM
HOW TO USE

What it is
The oil-controlling tone-up cream makes your skin look clean and bright by controlling excessive sebum with a smooth, matte, refreshing formula.
---
How to apply

Gently apply an appropriate amount on the face in the direction of skin texture.
---
Caution
1. Use only as directed.
2. Avoid storing in high/low temperatures or in areas exposed to direct sunlight.
3. Stop using if it causes any allergic reaction or any problems arising.
See more pictures: https://www.instagram.com/etudehouseofficial/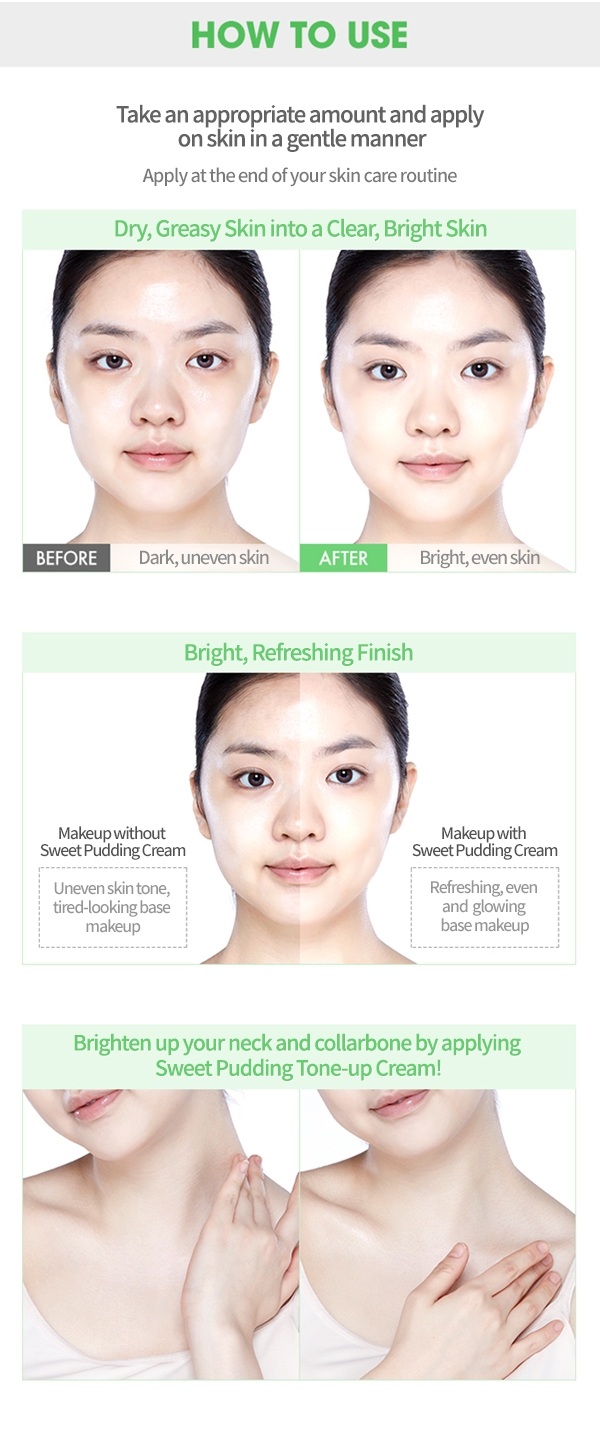 Details
| | |
| --- | --- |
| Weight (g) | 120 |
| Size | 50ml |
| INGREDIENTS | |
Customer Reviews
GREAT PRODUCT Review by

Heather

(Posted on 8/31/2018)

LOCATION:

United States

SKIN TYPE:

Combination

EYES COLOR:

Hazel

SKIN TONE:

Olive

AGES:

35 ~ 44

I was looking for a new moisturizer cream and picked this because of the benefits listed. The cream has a very, very pale mint green tint to it. It has oil control for sure, and it makes your face feel smooth. It has a brightening effect also. A little goes a long way though, so do not put too much on or your face will be white like a ghost. I am eager to see the antiwrinkle effects of long term use. I think this would be great to use before makeup too.

LOVELY Review by

Ana

(Posted on 8/21/2018)

LOCATION:

Brazil

SKIN TYPE:

Oily

EYES COLOR:

SKIN TONE:

Light

AGES:

This product does its job well I like to apply it after I take a shower because its texture feels great on the face Also due to its cover I do not need to use any makeup which is a blessing It is nice to go makeup free when your skin looks really healthy fresh and natural If you have oily skin I would definitely recommend you to buy this cream