DESCRIPTION
COLOR SYSTEM
HOW TO USE

What it is
Liquid glitter eye shadow DUO with a matt finish.
---
How to apply

Step 1, Matt liquid shadow) Apply the shadow on your eyelid using the tip and smudge softly. You can controlthe color vividness and clearness easily.
Step 2, Glitter liquid shadow) Apply the matte shadow on your eyelind and smudge it softly. If you apply it on the front of the underline, you can be looked more fancy. Also it can be used as single shadow.
---
Caution
1) When using cosmetics or after use, consult with a specialist if there is any abnormal symptom or side effect such as red spot, swelling or itching by direct sunlight.
2) Do not use in wounded areas.
3) Precautions for storage and handling
A) Keep out of the reach of children
B. Keep away from direct sunlight.
4) Do not use in shaking places.
5) Be careful that the tip does not touch the eyeball.
6) Do not modify the tip.
7) Keep the tip clean for future use.
8) Do not use tip with others.
9) In case of contact with eyes, wash immediately
See more pictures: https://www.instagram.com/etudehouseofficial/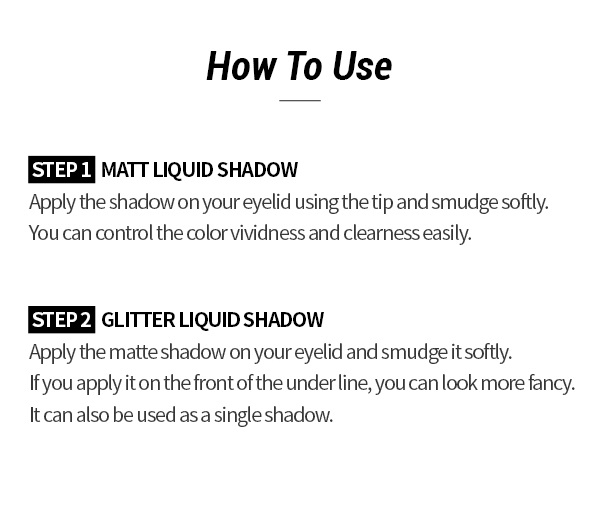 Details
| | |
| --- | --- |
| Weight (g) | 20 |
| Size | Matte 2.5g, Glitter Liquid Shadow 2.5g |
| INGREDIENTS | |