DESCRIPTION
COLOR SYSTEM
HOW TO USE

Description
Proof 10 Eye Primer supplies coverage to eyelids and around the eyes to enhance eye shadow color and intergrity for a longer lasting, Perfect 10 look.
Directions
Use fingers to gently apply primer to upper and lower eyelids prior to eye shadow application. Also applicable to eye lines prior to eyeliner application.
Caution
1. Use only as directed.
2. Avoid storing in high and low temperatures and areas exposed to direct sunlight.
3. Cease use if problems arise.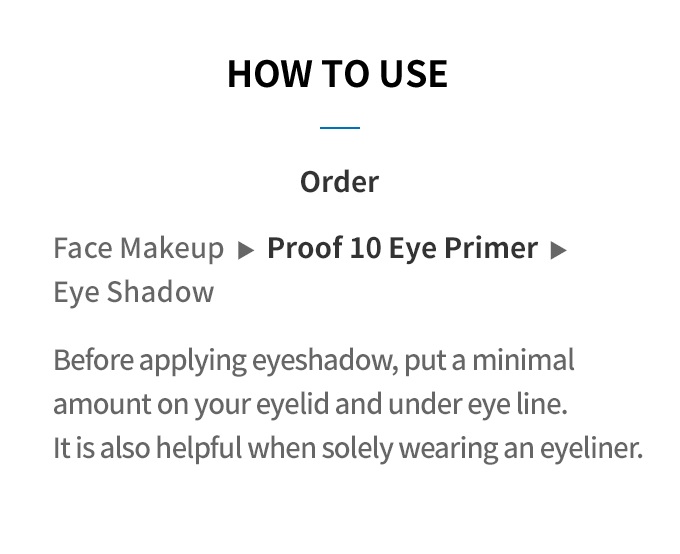 Details
| | |
| --- | --- |
| Weight (g) | 25 |
| Size | 0.35 oz. / 10 g |
| INGREDIENTS | |
Customer Reviews
LOCATION:

Australia

SKIN TYPE:

Oily

EYES COLOR:

Hazel

SKIN TONE:

Fair

AGES:

19 ~ 24

Unfortunately, this product is quite polarizing for me so I will split it into pros and cons. pros, super long lasting, no creasing, or smudging of the eyeshadow, more vibrant colors of the shadows, can even take a shower with makeup and will stay on. cons does not mix well with foundation and concealer, gets cakey when near, It has bad ingredients. paraben, silicone, BHT, PEGs. Even though it was the best eye primer I have used so far, the cons really outweigh the pros. I care about the ingredients and I think that there should be no problems between concealers and primers. I do understand the hype because it is a good product, but I want to bring awareness to the downsides as well. Hope Etude house fixes the issue with ingredients in the future.

LOCATION:

United States

SKIN TYPE:

Combination

EYES COLOR:

Brown

SKIN TONE:

Fair

AGES:

19 ~ 24

The best eye primer Ive ever used! Doesnt crease and keeps eye shadow in place.

LOCATION:

United States

SKIN TYPE:

Combination

EYES COLOR:

Brown

SKIN TONE:

Fair

AGES:

25 ~ 34

Before I found this primer I was using the Urban Decay one I think this one lasts longer than the Urban Decay one It has a great smooth finish that really helps your eyeshadows to adhere well and last all day

LOCATION:

United States

SKIN TYPE:

EYES COLOR:

SKIN TONE:

AGES:

Goes super well with my etude eyeshadows, especially the ones that tend to fade fast and crease! Keeps them in place for my 10 hour shifts at work. Will buy again for sure.

LOCATION:

United States

SKIN TYPE:

Combination

EYES COLOR:

Hazel

SKIN TONE:

Olive

AGES:

35 ~ 44

This is a great product It really truly works I was pleasantly surprised My eye shadow stayed on all day without smudging or diminishing at all The applicator makes it easy to apply I definitely recommend this primer I got a lot of compliments on my makeup when I used this

LOCATION:

Australia

SKIN TYPE:

EYES COLOR:

SKIN TONE:

AGES:

love love love this. Its a good price and it works really really well. Works just as well as more expensive products.

LOCATION:

Chile

SKIN TYPE:

EYES COLOR:

SKIN TONE:

Fair

AGES:

25 ~ 34

I had read so many things before so I wanted to try it myself It does what it says your eye shadow stays in place and it makes the colour more noticeable too Be aware that if you have oily lids this is not a product for you or if you want to cover some imperfections on your lids this product doesnt have any colour and you will have to use something else like a base shadow for that

LOCATION:

United States

SKIN TYPE:

Combination

EYES COLOR:

Brown

SKIN TONE:

Light

AGES:

19 ~ 24

This eye primer works as good as the price It makes eye shadow more vibrant and long lasting Dont waste your money on expensive eye primers buy this one

LOCATION:

United States

SKIN TYPE:

EYES COLOR:

SKIN TONE:

AGES:

This primer is infamous for a reason I was honestly skeptical at first but I can honestly say that this is a dupe for the popular Urban Decay primer potion Ive owned both products and now use this one since its more affordable The texture may be different but the shade and last power is completely the same Why spend more when you can get the same results for less

LOCATION:

United States

SKIN TYPE:

Dry

EYES COLOR:

SKIN TONE:

AGES:

19 ~ 24

This primer really makes a difference in my eyelids Not only the color is displayed brighter but also lasts longer without using this primer When applied it feels a bit oily but it eventually goes away

LOCATION:

New Zealand

SKIN TYPE:

Combination

EYES COLOR:

Brown

SKIN TONE:

Deep

AGES:

19 ~ 24

Since my eyelids get oily and tend to crease a lot this primer really helps in reducing it and it helps make the shadows pop better Never had to buy different brands cause its so good

LOCATION:

United States

SKIN TYPE:

Normal

EYES COLOR:

SKIN TONE:

Fair

AGES:

I use this on both my eyes and my nose My eyeshadow lasts nicely throughout the day and putting this on my nose before foundation keeps my foundation from waring down in that location

LOCATION:

United States

SKIN TYPE:

Combination

EYES COLOR:

Blue

SKIN TONE:

Fair

AGES:

19 ~ 24

This is a holy grail item and if you wear eyeshadow at all I would 10 out of 10 recommend this product It is very smooth and easy to apply it increases the pigmentation of any eyeshadow and it makes your eyeshadow last for 24 HOURS My eyeshadow used to melt off a few hours after application but when I started using this product it never has melted off once even in very high temperatures This product also waterproofs your eyeshadow When I go swimming my eyeshadow stays in place I have reorder a few times now because I love it so so so much I would recommend this product to anyone who wants their eyeshadow and eye liner to last for a very long time

LOCATION:

United States

SKIN TYPE:

EYES COLOR:

SKIN TONE:

AGES:

This primer is great it makes my eyeshadow last so much longer than if I were to use the eyeshadow by itself

LOCATION:

SKIN TYPE:

EYES COLOR:

SKIN TONE:

AGES:

it makes the eyeshadow last quite a bit longer than normally

LOCATION:

SKIN TYPE:

EYES COLOR:

SKIN TONE:

AGES:

I have really oily eyelids and with this, my eye makeup stays on all day and does not crease. The one downside is that I ran out of this really quickly without even really using it.

LOCATION:

SKIN TYPE:

EYES COLOR:

SKIN TONE:

AGES:

I have never tried an eye primer before so I was skeptical but it worked really well! I have very oily eyelids and have problems with my eyeshadow creasing after just a few hours, but this kept it in place and matte all day! The price is very good compared to other ones I looked at too. I will never go a day without it now!

LOCATION:

SKIN TYPE:

EYES COLOR:

SKIN TONE:

AGES:

This is the best eye primer I've ever used. It's not too greasy or sticky and lasts all day. The best part is that it's affordable too

LOCATION:

SKIN TYPE:

EYES COLOR:

SKIN TONE:

AGES:

Such a great product! It feels really nice on and is really light and easy to apply. Lasts foreverrr and holds eye make up so well. I used to always get smudged eyeliner because I have a habit of touching around my eyes a lot, but after using this I had hardly any smudging! Really a great primer ~~

LOCATION:

SKIN TYPE:

EYES COLOR:

SKIN TONE:

AGES:

It's great! I have inflation under my eyes, when I use it they will disappear completely nationally! while u using it under your eyes, you feel cold in your eyes like how u feel when u chew a mint gum :D It's so national and I love it ~~^^

LOCATION:

SKIN TYPE:

EYES COLOR:

SKIN TONE:

AGES:

Bought it to try it out. super long lasting. I had no caking. Used my high end eye shadows (when used alone doesn't last all day) The primer held on tight all day!! I HIGHLY recommend this

LOCATION:

SKIN TYPE:

EYES COLOR:

SKIN TONE:

AGES:

This is my favourite eye primer!! I have tried urban decay's primer potion and lorac's behind the scenes eye primer, and still have creasing after a few hours. My shadows never crease with this product. I've been through 4 of them already. Highly recommend the Proof 10 Eye Primer