DESCRIPTION
COLOR SYSTEM
HOW TO USE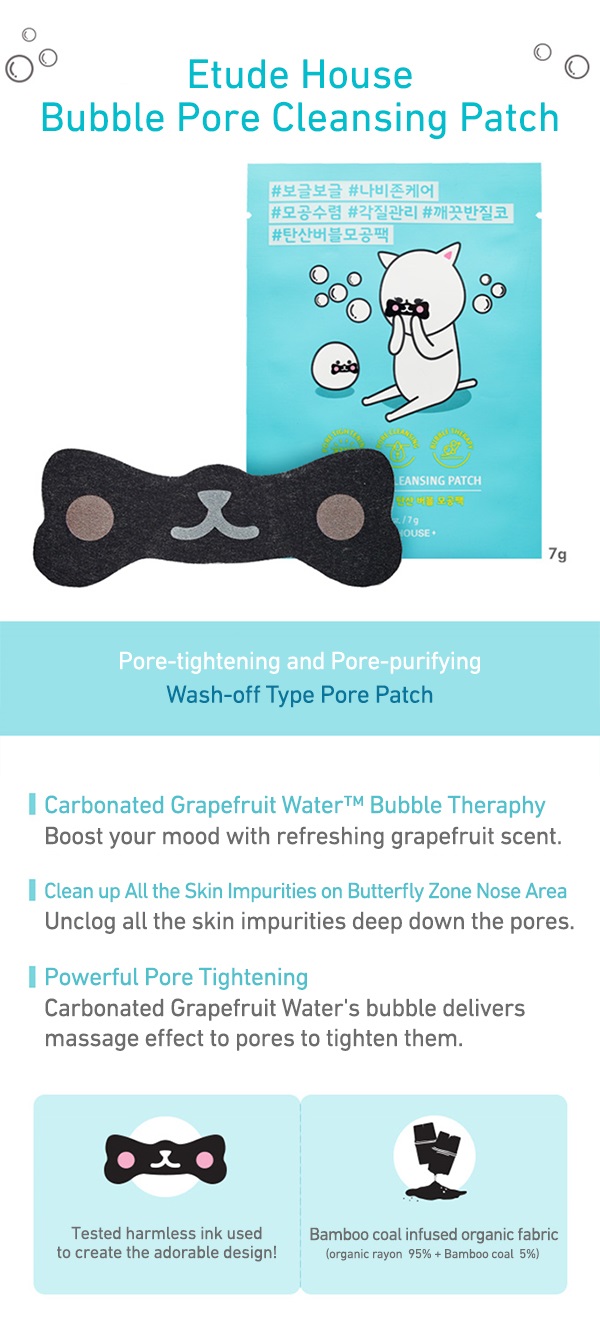 What it is
The wash-off type Bubble Pore Cleansing Patch cleanses impurities, and the pore astringent effect of Grapefruit Carbonated Water™ Bubble tightens pores on the butterfly zone characterized by excessive sebum secretion.
---
How to apply

1. After washing the face, open the product and closely attach the patch on towel-dried face while aligning it with the nose and cheek. (The solution may settle, so rub the surface of the product in a circular motion to mix the content well before use.)
2. After 10 minutes when carbon bubbles are generated, remove the patch.
3. Gently massage the remaining residue on skin, and then wash off with lukewarm water.
*When Grapefruit Carbonated Water™ rises, your skin may get red or burn, but they are normal reactions to the massage effect of bubble.
If the burning sensation persists for more than 15 minutes, discontinue use and wash off with lukewarm water.
Caution
1. Use only as directed.
2. Avoid storing in high/low temperatures or in areas exposed to direct sunlight.
3. Stop using if it causes any allergic reaction or any problems arising.
See more pictures: https://www.instagram.com/etudehouseofficial/

Details
| | |
| --- | --- |
| Weight (g) | 15 |
| Size | 7g |
| INGREDIENTS | |
Customer Reviews
CLEANS ALL THE NOSE PORES THOROUGHLY Review by

Sarah

(Posted on 8/30/2018)

LOCATION:

United States

SKIN TYPE:

Combination

EYES COLOR:

Brown

SKIN TONE:

Fair

AGES:

25 ~ 34

This is great for deep cleaning the pores on your nose This patch will get everything out and the bubbling helps you to feel very clean afterwards I try to use this patch once a month

AMAZING Review by

kaki

(Posted on 3/26/2018)

LOCATION:

United States

SKIN TYPE:

Dry

EYES COLOR:

Brown

SKIN TONE:

Light

AGES:

19 ~ 24

You can feel it working and hear it bubbling on your nose Theres also a very light grapefruit scent I was sceptical at first and bought it because it was cute but after using it I seriously said WOW The pores on my nose were so much smaller and some of them were straight up gone no more blackheads