DESCRIPTION
COLOR SYSTEM
HOW TO USE

What it is
Multi-purpose silicone puff for use when applying skin care products, make up and even as an ice pack.
---
How to apply

■Skincare > Put skin care products, such as cream and essence on the puff and lightly dab it over the skin.
■Makeup > Put makeup products, for example, foundation and BB on the puff.
1/3 of amount that you usually use should be plenty.
Apply over the skin and lightly dab for better blending.
■Mixing palette > Take an adequate amount of different products, different colors or textures, put them on the puff, mix well and apply.
■Ice pack > Refrigerate the puff. Put it over the eyes and massage by gently dabbing it to reduce puffiness.
Unpack and clean the product under running water. Be sure to clean it using wet wipes or running water after use for next time.
Do not remove the protective film on the silicon puff when using it.
Caution
1. Do not use the product on scars or any area of skin irritation such as dermatitis and eczema.
2. Keep the product clean for next use.
3. Do not share with others.
4. Avoid extremely high and low temperatures and keep out of direct sunlight.
5. Keep the product out of the reach of children and babies.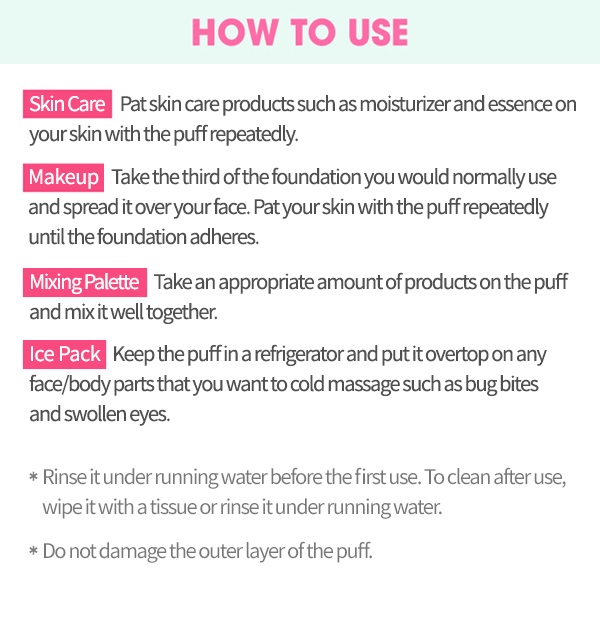 Details
| | |
| --- | --- |
| Weight (g) | 30 |
| Size | 1pcs |
| INGREDIENTS | |
Customer Reviews
LOCATION:

Canada

SKIN TYPE:

Sensitive

EYES COLOR:

Blue

SKIN TONE:

Fair

AGES:

19 ~ 24

This is great for getting the foundation all over the face but not for blending since it streaks. Its great for applying skincare. Thats pretty good considering the only con is not being able to blend. I use a beauty blender for that.

LOCATION:

United States

SKIN TYPE:

Combination

EYES COLOR:

Brown

SKIN TONE:

Fair

AGES:

25 ~ 34

This is an excellent tool if you want to save foundation Because the puff is made of silicon it can not absorb foundation like a sponge can so you will save product I love the cute cat shape of this silicon sponge

LOCATION:

United Arab Emi

SKIN TYPE:

Combination

EYES COLOR:

SKIN TONE:

Light

AGES:

This is perfection I love that I can see whats going on my skin and dont have to worry about bacteria living inside the applicator like you do with sponges I have noticed Im using a lot less product for the exact same coverage I highly recommend this product

LOCATION:

United States

SKIN TYPE:

Combination

EYES COLOR:

Blue

SKIN TONE:

Fair

AGES:

19 ~ 24

This silicone puff helps to spread your foundation more evenly across you face and it even helps you use less foundation than if you use a blender sponge or your hand My only issue with it is sometimes it leaves streaks of foundation that I have to blend in with my fingers but it is not a big deal