DESCRIPTION
COLOR SYSTEM
HOW TO USE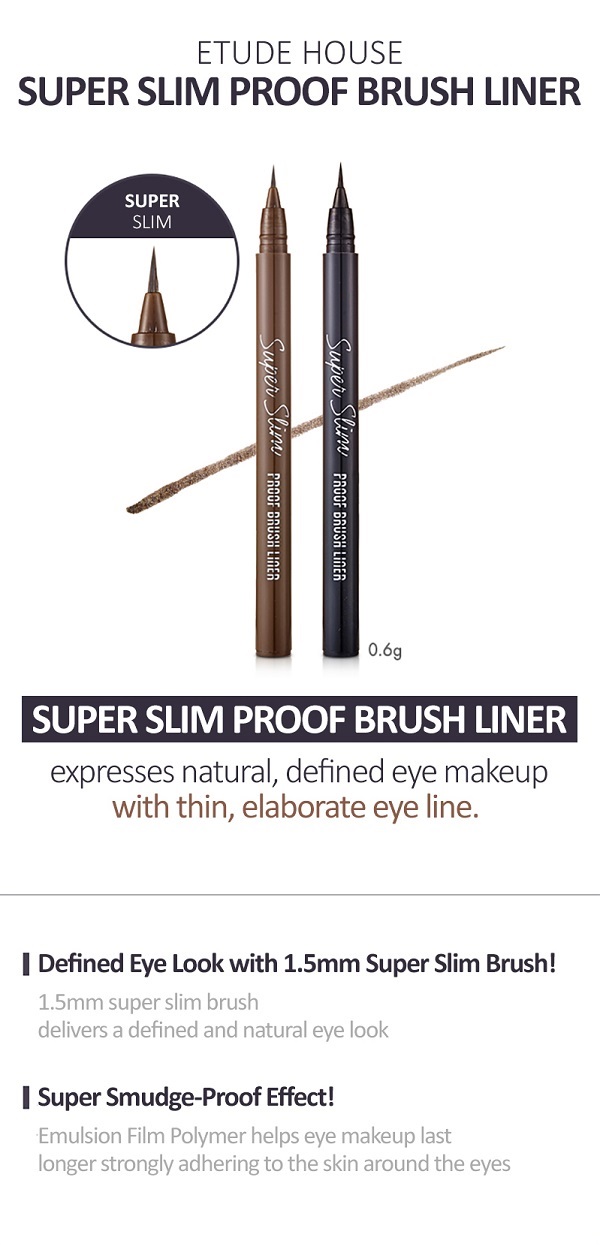 What it is
Super slim brush liner expresses natural, defined eye makeup with thin, intricate eye line.
---
How to apply

Place the brush closely to the eye line and draw in between the eyelashes to express natural, defined eye makeup
Caution
1. Use only as directed.
2. Avoid storing in high/low temperatures or in areas exposed to direct sunlight.
3. Stop using if it causes any allergic reaction or any problems arising.
See more pictures: https://www.instagram.com/etudehouseofficial/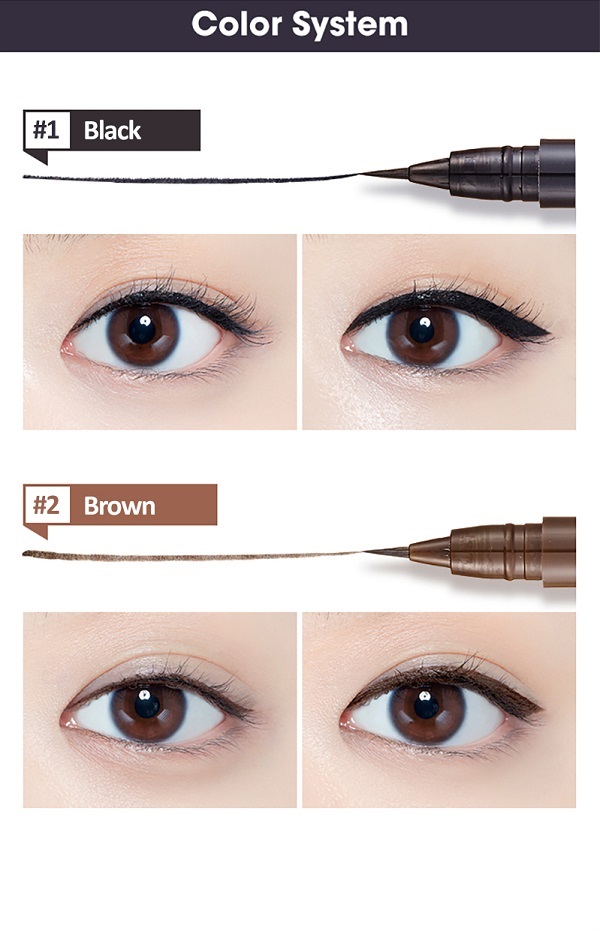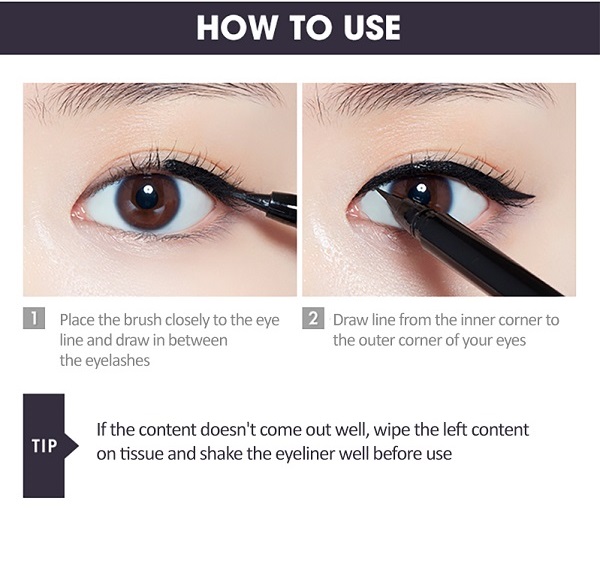 Details
| | |
| --- | --- |
| Weight (g) | 10 |
| Size | 0.02 oz. / 0.6 g |
| INGREDIENTS | |
Customer Reviews
LOCATION:

United States

SKIN TYPE:

Combination

EYES COLOR:

Brown

SKIN TONE:

Fair

AGES:

25 ~ 34

This works well for me because I always have trouble using eye liner but this one is nice and slim so it is easy to make a perfect line It has good staying power and does not crack like other eye liners do

LOCATION:

United States

SKIN TYPE:

Oily

EYES COLOR:

Brown

SKIN TONE:

AGES:

19 ~ 24

cracks a little but stays on good.

LOCATION:

United States

SKIN TYPE:

Oily

EYES COLOR:

Brown

SKIN TONE:

AGES:

19 ~ 24

cracks a little but stays on good.

LOCATION:

United States

SKIN TYPE:

Oily

EYES COLOR:

Brown

SKIN TONE:

AGES:

19 ~ 24

cracks a little but stays on good.

LOCATION:

United States

SKIN TYPE:

Sensitive

EYES COLOR:

Brown

SKIN TONE:

AGES:

This was my first eyeliner The liner glides on well and it hardly smears The only problem I have is that the line doesnt always apply straight I opt for pencil liners but thats just my personal preference I would rate this a strong 9 out of 10 for those who prefer brush liners over pencil ones

LOCATION:

India

SKIN TYPE:

Combination

EYES COLOR:

Brown

SKIN TONE:

Medium

AGES:

19 ~ 24

I am usually into subtle makeup and this is exactly what I wanted The application is easy and clean and the brush is just perfect Iam really happy with this product

LOCATION:

Canada

SKIN TYPE:

Sensitive

EYES COLOR:

Hazel

SKIN TONE:

Medium

AGES:

19 ~ 24

Im a fan of eyeliners and I wear eyeliners 90 percent of the time I love this and I liked it really much Its not one of those liners that smudge a lot when you accidentally scratch your eyelid because it got itchy NO IT WILL STAY GIRL IT DOES DO ITS JOB and its doing perfectly right PRINCESSES I recommend this