DESCRIPTION
COLOR SYSTEM
HOW TO USE
What it is
Sparkling like the gloss, Moisturizing like the lip oil Lip Glow expresses lips looks firming and moisturizing like cherry lips with Oil Glossy Texture.
---
How to apply

1. Adjust the amount on the tip by brushing against the opening of the container and naturally apply on the lips, starting from the inside and working outward.
2. Apply as needed to keep the lips feeling moisturized and plump like cherry.
---
Caution
1. Use only as directed.
2. Do not use on spots with injury, eczema, or dermatitis
3. Keep out of reach of infants and children.
4. Do not store in a place with high and low temperature and direct sunlight.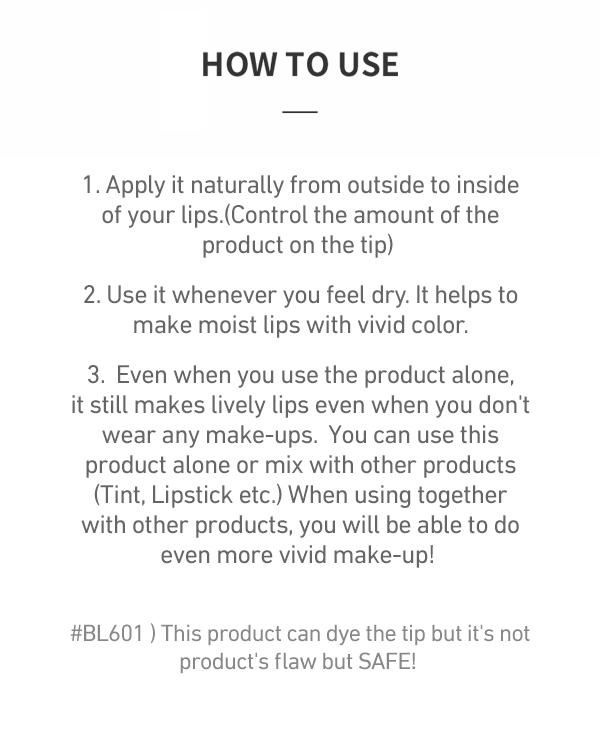 Details
| | |
| --- | --- |
| Weight (g) | 30 |
| Size | 4 g / 0.14 oz. |
| INGREDIENTS | |
Customer Reviews
LOCATION:

Ecuador

SKIN TYPE:

Combination

EYES COLOR:

Brown

SKIN TONE:

Light

AGES:

35 ~ 44

Este labial cumple lo que ofrece. Le da brilo durarero a tus labios y sobre todo los hidrata. Para un dia en el cual no tienes ganas de usar maquillaje pero no quieres descuidar el cuidado de tu piel este labial te dara color y los mantendra muy hidratados. Los resultados de el uso constante te sorprendera. El labial es un glossy con color que resalta en mi piel. Este es un producto super recomendado.

LOCATION:

Canada

SKIN TYPE:

Combination

EYES COLOR:

Brown

SKIN TONE:

Light

AGES:

25 ~ 34

The lipgloss is not sticky or tacky, I do not have to worry about my hair sticking to my lips. The colour is very subtle but pretty. It applies nicely over lipsticks.

LOCATION:

United States

SKIN TYPE:

Combination

EYES COLOR:

Brown

SKIN TONE:

Light

AGES:

35 ~ 44

This lip glow is good and prevents my lip dryness. I love the color which I ordered. It was really good matching with Etude tint. I wanted to order BL601, but it was out of stock when I ordered OR 202. Please stock BL601 ASAP.

LOCATION:

United States

SKIN TYPE:

EYES COLOR:

SKIN TONE:

AGES:

I originally got one color and I ended up getting all of them. The oil formula feels great and the tint is so natural. I use it by itself or on top of other lipsticks when my lips dry up. All colors are great and a bit sheer. BL601 turns pink when I put it on.

LOCATION:

United Arab Emi

SKIN TYPE:

EYES COLOR:

SKIN TONE:

AGES:

I do love this product. I recommend it.

LOCATION:

United States

SKIN TYPE:

Combination

EYES COLOR:

Brown

SKIN TONE:

Fair

AGES:

25 ~ 34

This lip gloss in shade BL601 always brings me back to childhood and makes me dream of rainbows and unicorns It makes nice topcoat over lipstick or other lip tints and adds shine and sparkle The lip gloss is very moisturizing and I ended up buying it in a couple other shades too