DESCRIPTION
COLOR SYSTEM
HOW TO USE

What it is
Long-lasting stick shadow and waterproof eyeliner, all-in-one!
---
How to apply

Step 1, Stick Shadow : Apply the shadow on the eye area and blend it softly using fingertips. If you want more natural and sparkling expression, layer the color as much as you want.
Step 2, Eyeliner : Draw the eyeliner from inner corner of your eye to outer corner delicately. Glide along the upper lash line thoroughtly as if extending the line.
---
Caution
1) When using cosmetics or after use, consult with a specialist if there is any abnormal symptom or side effect such as red spot, swelling or itching by direct sunlight.
2) Do not use in wounded areas.
3) Precautions for storage and handling
A) Keep out of the reach of children
B. Keep away from direct sunlight.
4) Do not use in shaking places.
5) Be careful that the tip does not touch the eyeball.
6) Do not modify the tip.
7) Keep the tip clean for future use.
8) Do not use tip with others.
9) In case of contact with eyes, wash immediately.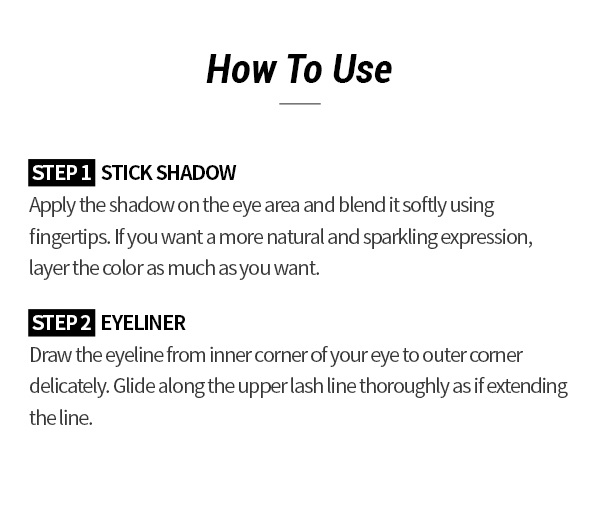 Details
| | |
| --- | --- |
| Weight (g) | 15 |
| Size | Shadow 1.4g, Liner 0.2g |
| INGREDIENTS | |
Customer Reviews
QUICK AND EASY! Review by

Carla

(Posted on 11/24/2019)

LOCATION:

United States

SKIN TYPE:

Normal

EYES COLOR:

Brown

SKIN TONE:

Fair

AGES:

25 ~ 34

Works for girls who do not really put heavy eye shadow on and want a little something sparkly on the eye lids. Easy and less hassle free and quick to apply. Just breaks easily.

PRETTY BUT A LITTLE TOO DARK Review by

Sabrina

(Posted on 7/19/2019)

LOCATION:

United States

SKIN TYPE:

Combination

EYES COLOR:

Brown

SKIN TONE:

Fair

AGES:

19 ~ 24

I bought this to do aegyo sal, but unfortunately it is a little too dark for my skin. Im very, very fair, so if you are pale like me, this might not work. However... it is still a good product and works as regular eyeliner and eyeshadow. I keep it in my purse in case I need to do quick makeup on the go.