DESCRIPTION
COLOR SYSTEM
HOW TO USE

What it is
Tone-up primer provides flawless skin base by correcting skin to make it look smooth and bright.
Rose color corrects dull skin tone and makes skin tone look revitalized.
---
How to apply

After using skincare products, evenly apply an appropriate amount on the face in the direction of skin texture before applying cushion or makeup.
Caution
1. Use only as directed.
2. Avoid storing in high/low temperatures or in areas exposed to direct sunlight.
3. Stop using if it causes any allergic reaction or any problems arising.
See more pictures: https://www.instagram.com/etudehouseofficial/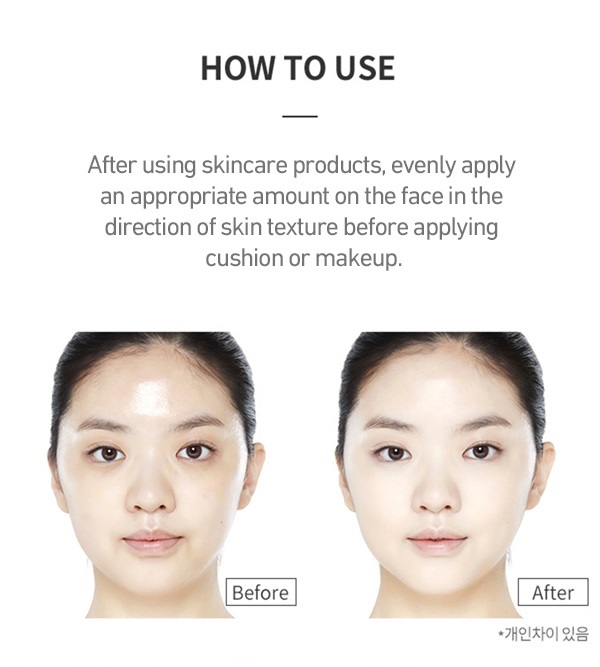 Details
| | |
| --- | --- |
| Weight (g) | 55 |
| Size | 1. 01 fl. oz./ 30 ml |
| INGREDIENTS | |
Customer Reviews
LOCATION:

United States

SKIN TYPE:

Combination

EYES COLOR:

Blue

SKIN TONE:

Olive

AGES:

19 ~ 24

I have a naturally reddish nose, eye area, and chin, so I ordered mint to help reduce the redness under the rest of my makeup. The product has a nice texture and it color corrects without turning my face green or an odd color. I feel I am left with a neutral, natural skin tone color base. Overall, I like it a lot. I use it with FIX and FIX Pore Primer.

LOCATION:

United States

SKIN TYPE:

Normal

EYES COLOR:

Brown

SKIN TONE:

Light

AGES:

19 ~ 24

as previously i tried lavender and rose and finally i used the mint one while it did have a nice smell since i have some dry patches they did become more noticeable after application and well this one was the one that made my face the palest

LOCATION:

United States

SKIN TYPE:

Normal

EYES COLOR:

Brown

SKIN TONE:

Light

AGES:

19 ~ 24

so the next one i used was lavender i thought that i should try all to see their differences while it had a different smell it didnt change much from the pink one it left my skin looking paler and it did not fade away even after i applied make up

LOCATION:

United States

SKIN TYPE:

Normal

EYES COLOR:

Brown

SKIN TONE:

Light

AGES:

19 ~ 24

i was given a few samples and the first one i tried was the pink one rose and while it smelled nice and felt nice on my skin i did notice it left my face looking extremely pale so when i put on my make up i looked paler than i am and i already am pale i thought that perhaps it would fade away but i still noticed how pale my face looked

LOCATION:

United States

SKIN TYPE:

Combination

EYES COLOR:

SKIN TONE:

Fair

AGES:

I bought mint and apricot. The apricot is okay, it does not cover my dark circles very well, to be fair I have very dark under eyes. However, I absolutely love using the mint to cover some redness on my checks and nose. Works very well under foundation and does not move my foundation around.

LOCATION:

United States

SKIN TYPE:

Oily

EYES COLOR:

Brown

SKIN TONE:

AGES:

19 ~ 24

good, it goes on nicely and it evens out my skin as well as moisturizing it.

LOCATION:

United States

SKIN TYPE:

Sensitive

EYES COLOR:

Brown

SKIN TONE:

AGES:

When I still used American primers I stuck to using Smashboxs Photofinish Primer and it worked just fine However as someone with a long history of taking antibiotics and previously using accutane to treat my severe cystic acne I found myself starting to break out with bumps here and there on my chin and cheeks Therefore I avoided make up as a whole and only applied sunblock for a year to allow my acne to heal and to keep my skin breathable After my acne scars brightened and my skin became stronger I decided to implement korean primers into my routine and I opted for the green tone up primer to block the occasional redness that would appear on my skin The result was a smooth and excellent coverage base for my BB Cream It makes my skin feel soft yet firm It isnt harsh and it contains SPF which I believe is a necessary supplement in primers

LOCATION:

United States

SKIN TYPE:

Dry

EYES COLOR:

Brown

SKIN TONE:

Light

AGES:

Under 18

I ordered the mint shade to help reduce the redness on my face It is very subtle but has worked wonders for me

LOCATION:

United States

SKIN TYPE:

Dry

EYES COLOR:

SKIN TONE:

AGES:

I got this in a set and I was hoping it would work for me I have dry skin and this caked up on my skin

LOCATION:

United States

SKIN TYPE:

Dry

EYES COLOR:

Brown

SKIN TONE:

Medium

AGES:

35 ~ 44

I love this tone up primer as it really brightens up my dull skin tone

LOCATION:

SKIN TYPE:

EYES COLOR:

SKIN TONE:

AGES:

What an amazing product! It helps cover all the flaws on my skin softly!

Reply by: ETUDEHOUSE (Admin)