DESCRIPTION
COLOR SYSTEM
HOW TO USE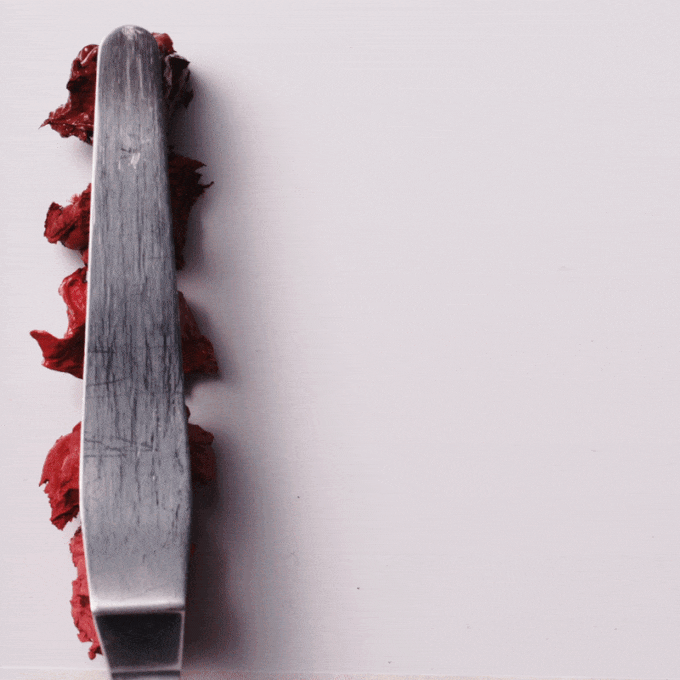 What it is
Velvet Lips-Talk gives vivid color and adheres lightly to the lips with matte finish.
---
How to apply

Apply on the entire lips along the lip line or on the center of the lips in a tapping motion to express gradation.
---
Caution
1. Use only as directed.
2. Avoid storing in high and low temperatures and areas exposed to direct sunlight.
3. Cease use if problems arise.
See more pictures: https://www.instagram.com/etudehouseofficial/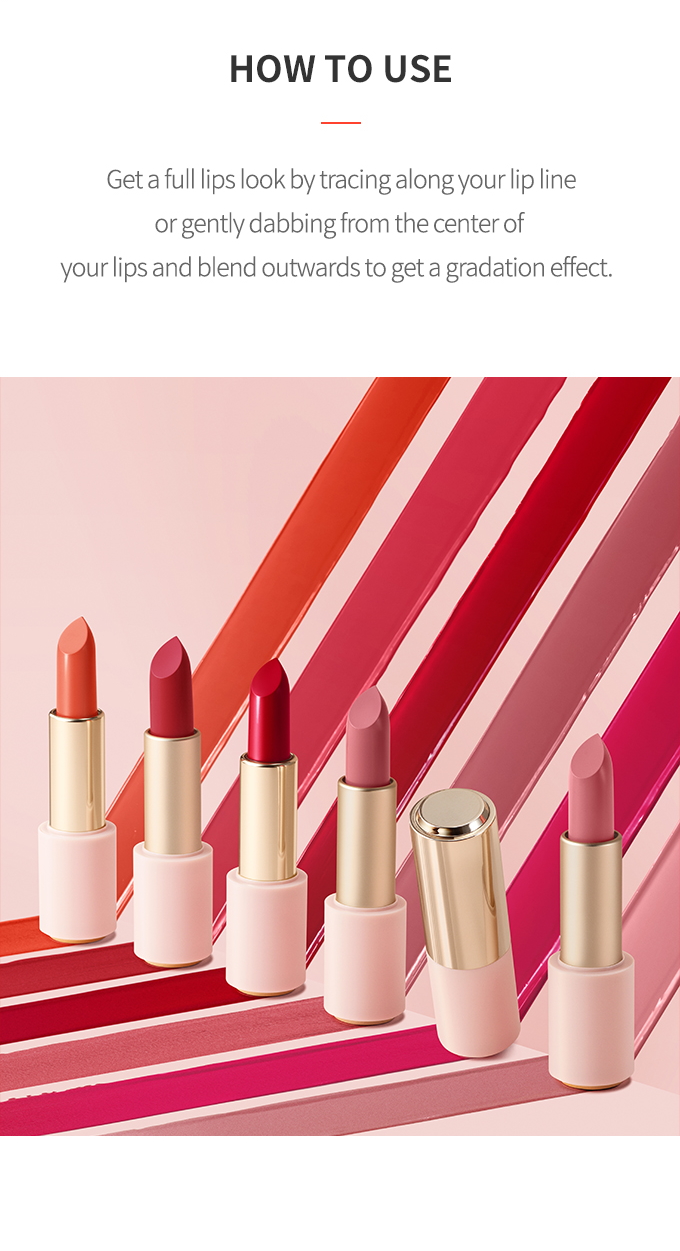 Details
Weight (g)
40
Size
3.4 g
INGREDIENTS

#Velvet BE101 Soft Lace : VINYL DIMETHICONE/METHICONE SILSESQUIOXANE CROSSPOLYMER, POLYGLYCERYL-2 TRIISOSTEARATE, DICAPRYLYL CARBONATE, TITANIUM DIOXIDE (CI 77891), DIMETHICONE, ISONONYL ISONONANOATE, POLYETHYLENE, SYNTHETIC WAX, YELLOW 5 LAKE (CI 19140), SILICA, SORBITAN SESQUIOLEATE, CALCIUM CARBONATE, MICROCRYSTALLINE WAX, POLYGLYCERYL-6 POLYRICINOLEATE, DIMETHICONE CROSSPOLYMER, ETHYLENE/PROPYLENE COPOLYMER, RED 7 LAKE (CI 15850), DIISOSTEARYL MALATE, FRAGRANCE, DEHYDROACETIC ACID, BLUE 1 LAKE (CI 42090), TOCOPHEROL, LINALOOL, LIMONENE, CITRONELLOL, CINNAMAL

#Velvet BE104 Ginger Cookie : POLYGLYCERYL-2 TRIISOSTEARATE, VINYL DIMETHICONE/METHICONE SILSESQUIOXANE CROSSPOLYMER, DICAPRYLYL CARBONATE, DIMETHICONE, ISONONYL ISONONANOATE, TITANIUM DIOXIDE (CI 77891), POLYETHYLENE, SYNTHETIC WAX, YELLOW 5 LAKE (CI 19140), IRON OXIDES (CI 77491), SILICA, SORBITAN SESQUIOLEATE, CALCIUM CARBONATE, MICROCRYSTALLINE WAX, POLYGLYCERYL-6 POLYRICINOLEATE, DIMETHICONE CROSSPOLYMER, ETHYLENE/PROPYLENE COPOLYMER, RED 7 LAKE (CI 15850), DIISOSTEARYL MALATE, TITANIUM/TITANIUM DIOXIDE, FRAGRANCE, DEHYDROACETIC ACID, TOCOPHEROL, LINALOOL, LIMONENE, CITRONELLOL, CINNAMAL

#Velvet BE109 Lovable Beige : VINYL DIMETHICONE/METHICONE SILSESQUIOXANE CROSSPOLYMER, POLYGLYCERYL-2 TRIISOSTEARATE, DICAPRYLYL CARBONATE, DIMETHICONE, ISONONYL ISONONANOATE, TITANIUM DIOXIDE (CI 77891), POLYETHYLENE, SYNTHETIC WAX, YELLOW 5 LAKE (CI 19140), IRON OXIDES (CI 77491), SILICA, SORBITAN SESQUIOLEATE, CALCIUM CARBONATE, MICROCRYSTALLINE WAX, POLYGLYCERYL-6 POLYRICINOLEATE, DIMETHICONE CROSSPOLYMER, ETHYLENE/PROPYLENE COPOLYMER, RED 7 LAKE (CI 15850), DIISOSTEARYL MALATE, TITANIUM/TITANIUM DIOXIDE, FRAGRANCE, DEHYDROACETIC ACID, TOCOPHEROL, LINALOOL, LIMONENE, CITRONELLOL, CINNAMAL

#Velvet BR401 Orange Brick : POLYGLYCERYL-2 TRIISOSTEARATE, VINYL DIMETHICONE/METHICONE SILSESQUIOXANE CROSSPOLYMER, DICAPRYLYL CARBONATE, DIMETHICONE, ISONONYL ISONONANOATE, YELLOW 6 LAKE (CI 15985), POLYETHYLENE, SYNTHETIC WAX, TITANIUM DIOXIDE (CI 77891), SILICA, SORBITAN SESQUIOLEATE, CALCIUM CARBONATE, MICROCRYSTALLINE WAX, POLYGLYCERYL-6 POLYRICINOLEATE, YELLOW 5 LAKE (CI 19140), RED 7 LAKE (CI 15850), DIMETHICONE CROSSPOLYMER, ETHYLENE/PROPYLENE COPOLYMER, DIISOSTEARYL MALATE, TITANIUM/TITANIUM DIOXIDE, FRAGRANCE, DEHYDROACETIC ACID, TOCOPHEROL, LINALOOL, LIMONENE, CITRONELLOL, CINNAMAL

#Velvet RD303 Lucky Kiss : POLYGLYCERYL-2 TRIISOSTEARATE, VINYL DIMETHICONE/METHICONE SILSESQUIOXANE CROSSPOLYMER, DICAPRYLYL CARBONATE, DIMETHICONE, ISONONYL ISONONANOATE, YELLOW 5 LAKE (CI 19140), POLYETHYLENE, SYNTHETIC WAX, RED 7 LAKE (CI 15850), SILICA, SORBITAN SESQUIOLEATE, CALCIUM CARBONATE, MICROCRYSTALLINE WAX, POLYGLYCERYL-6 POLYRICINOLEATE, YELLOW 6 LAKE (CI 15985), DIMETHICONE CROSSPOLYMER, ETHYLENE/PROPYLENE COPOLYMER, FRAGRANCE, DEHYDROACETIC ACID, DIISOSTEARYL MALATE, TITANIUM/TITANIUM DIOXIDE, TOCOPHEROL, LINALOOL, LIMONENE, CITRONELLOL, CINNAMAL

#Velvet RD313 Wannabe Red : POLYGLYCERYL-2 TRIISOSTEARATE, VINYL DIMETHICONE/METHICONE SILSESQUIOXANE CROSSPOLYMER, DICAPRYLYL CARBONATE, DIMETHICONE, ISONONYL ISONONANOATE, YELLOW 5 LAKE (CI 19140), POLYETHYLENE, SYNTHETIC WAX, TITANIUM DIOXIDE (CI 77891), RED 7 LAKE (CI 15850), SILICA, SORBITAN SESQUIOLEATE, CALCIUM CARBONATE, MICROCRYSTALLINE WAX, POLYGLYCERYL-6 POLYRICINOLEATE, DIMETHICONE CROSSPOLYMER, ETHYLENE/PROPYLENE COPOLYMER, RED 28 LAKE (CI 45410), FRAGRANCE, DIISOSTEARYL MALATE, TITANIUM/TITANIUM DIOXIDE, DEHYDROACETIC ACID, TOCOPHEROL, LINALOOL, LIMONENE, CITRONELLOL, CINNAMAL

#Velvet BR402 Love Rosy : POLYGLYCERYL-2 TRIISOSTEARATE, VINYL DIMETHICONE/METHICONE SILSESQUIOXANE CROSSPOLYMER, DICAPRYLYL CARBONATE, DIMETHICONE, ISONONYL ISONONANOATE, TITANIUM DIOXIDE (CI 77891), POLYETHYLENE, SYNTHETIC WAX, RED 6 (CI 15850), SILICA, RED 7 LAKE (CI 15850), SORBITAN SESQUIOLEATE, CALCIUM CARBONATE, YELLOW 5 LAKE (CI 19140), MICROCRYSTALLINE WAX, POLYGLYCERYL-6 POLYRICINOLEATE, DIMETHICONE CROSSPOLYMER, ETHYLENE/PROPYLENE COPOLYMER, DIISOSTEARYL MALATE, TITANIUM/TITANIUM DIOXIDE, FRAGRANCE, DEHYDROACETIC ACID, TOCOPHEROL, LINALOOL, LIMONENE, CITRONELLOL, CINNAMAL

#Velvet OR201 Retrose : POLYGLYCERYL-2 TRIISOSTEARATE, VINYL DIMETHICONE/METHICONE SILSESQUIOXANE CROSSPOLYMER, DICAPRYLYL CARBONATE, DIMETHICONE, ISONONYL ISONONANOATE, TITANIUM DIOXIDE (CI 77891), POLYETHYLENE, YELLOW 5 LAKE (CI 19140), SYNTHETIC WAX, SILICA, SORBITAN SESQUIOLEATE, CALCIUM CARBONATE, RED 7 LAKE (CI 15850), MICROCRYSTALLINE WAX, POLYGLYCERYL-6 POLYRICINOLEATE, DIMETHICONE CROSSPOLYMER, ETHYLENE/PROPYLENE COPOLYMER, RED 6 (CI 15850), DIISOSTEARYL MALATE, TITANIUM/TITANIUM DIOXIDE, FRAGRANCE, DEHYDROACETIC ACID, TOCOPHEROL, LINALOOL, LIMONENE, CITRONELLOL, CINNAMAL

#Velvet RD312 Cold Red : POLYGLYCERYL-2 TRIISOSTEARATE, VINYL DIMETHICONE/METHICONE SILSESQUIOXANE CROSSPOLYMER, DICAPRYLYL CARBONATE, DIMETHICONE, ISONONYL ISONONANOATE, YELLOW 5 LAKE (CI 19140), POLYETHYLENE, SYNTHETIC WAX, RED 7 LAKE (CI 15850), TITANIUM DIOXIDE (CI 77891), SILICA, SORBITAN SESQUIOLEATE, CALCIUM CARBONATE, MICROCRYSTALLINE WAX, POLYGLYCERYL-6 POLYRICINOLEATE, YELLOW 6 LAKE (CI 15985), DIMETHICONE CROSSPOLYMER, ETHYLENE/PROPYLENE COPOLYMER, DIISOSTEARYL MALATE, TITANIUM/TITANIUM DIOXIDE, FRAGRANCE, DEHYDROACETIC ACID, TOCOPHEROL, LINALOOL, LIMONENE, CITRONELLOL, CINNAMAL

#Velvet BR404 Frightened Red : POLYGLYCERYL-2 TRIISOSTEARATE, VINYL DIMETHICONE/METHICONE SILSESQUIOXANE CROSSPOLYMER, DICAPRYLYL CARBONATE, DIMETHICONE, ISONONYL ISONONANOATE, IRON OXIDES (CI 77491), POLYETHYLENE, SYNTHETIC WAX, YELLOW 6 LAKE (CI 15985), RED 7 LAKE (CI 15850), SILICA, SORBITAN SESQUIOLEATE, CALCIUM CARBONATE, RED 28 LAKE (CI 45410), MICROCRYSTALLINE WAX, POLYGLYCERYL-6 POLYRICINOLEATE, DIMETHICONE CROSSPOLYMER, ETHYLENE/PROPYLENE COPOLYMER, DIISOSTEARYL MALATE, TITANIUM/TITANIUM DIOXIDE, YELLOW 5 LAKE (CI 19140), FRAGRANCE, DEHYDROACETIC ACID, TOCOPHEROL, LINALOOL, LIMONENE, CITRONELLOL, CINNAMAL

#Velvet PK001 Lonely Pink : VINYL DIMETHICONE/METHICONE SILSESQUIOXANE CROSSPOLYMER, POLYGLYCERYL-2 TRIISOSTEARATE, DICAPRYLYL CARBONATE, DIMETHICONE, ISONONYL ISONONANOATE, TITANIUM DIOXIDE (CI 77891), POLYETHYLENE, SYNTHETIC WAX, RED 6 (CI 15850), YELLOW 5 LAKE (CI 19140), SILICA, SORBITAN SESQUIOLEATE, CALCIUM CARBONATE, MICROCRYSTALLINE WAX, POLYGLYCERYL-6 POLYRICINOLEATE, DIISOSTEARYL MALATE, TITANIUM/TITANIUM DIOXIDE, RED 7 LAKE (CI 15850), DIMETHICONE CROSSPOLYMER, ETHYLENE/PROPYLENE COPOLYMER, FRAGRANCE, DEHYDROACETIC ACID, TOCOPHEROL, LINALOOL, LIMONENE, CITRONELLOL, CINNAMAL

#Velvet BE105 Dusty Peach : VINYL DIMETHICONE/METHICONE SILSESQUIOXANE CROSSPOLYMER, POLYGLYCERYL-2 TRIISOSTEARATE, DICAPRYLYL CARBONATE, TITANIUM DIOXIDE (CI 77891), DIMETHICONE, ISONONYL ISONONANOATE, POLYETHYLENE, SYNTHETIC WAX, YELLOW 5 LAKE (CI 19140), SILICA, SORBITAN SESQUIOLEATE, CALCIUM CARBONATE, MICROCRYSTALLINE WAX, POLYGLYCERYL-6 POLYRICINOLEATE, RED 7 LAKE (CI 15850), RED 6 (CI 15850), DIMETHICONE CROSSPOLYMER, ETHYLENE/PROPYLENE COPOLYMER, DIISOSTEARYL MALATE, TITANIUM/TITANIUM DIOXIDE, FRAGRANCE, DEHYDROACETIC ACID, TOCOPHEROL, LINALOOL, LIMONENE, CITRONELLOL, CINNAMAL

#Velvet PK003 Mood up : POLYGLYCERYL-2 TRIISOSTEARATE, VINYL DIMETHICONE/METHICONE SILSESQUIOXANE CROSSPOLYMER, DICAPRYLYL CARBONATE, DIMETHICONE, ISONONYL ISONONANOATE, TITANIUM DIOXIDE (CI 77891), POLYETHYLENE, SYNTHETIC WAX, YELLOW 5 LAKE (CI 19140), RED 7 LAKE (CI 15850), SILICA, SORBITAN SESQUIOLEATE, CALCIUM CARBONATE, IRON OXIDES (CI 77491), MICROCRYSTALLINE WAX, POLYGLYCERYL-6 POLYRICINOLEATE, DIMETHICONE CROSSPOLYMER, ETHYLENE/PROPYLENE COPOLYMER, DIISOSTEARYL MALATE, TITANIUM/TITANIUM DIOXIDE, FRAGRANCE, DEHYDROACETIC ACID, TOCOPHEROL, LINALOOL, LIMONENE, CITRONELLOL, CINNAMAL

#Velvet PK002 Mink Pink : VINYL DIMETHICONE/METHICONE SILSESQUIOXANE CROSSPOLYMER, POLYGLYCERYL-2 TRIISOSTEARATE, DICAPRYLYL CARBONATE, TITANIUM DIOXIDE (CI 77891), DIMETHICONE, ISONONYL ISONONANOATE, POLYETHYLENE, SYNTHETIC WAX, YELLOW 5 LAKE (CI 19140), SILICA, SORBITAN SESQUIOLEATE, CALCIUM CARBONATE, RED 7 LAKE (CI 15850), MICROCRYSTALLINE WAX, POLYGLYCERYL-6 POLYRICINOLEATE, DIMETHICONE CROSSPOLYMER, ETHYLENE/PROPYLENE COPOLYMER, RED 6 (CI 15850), DIISOSTEARYL MALATE, TITANIUM/TITANIUM DIOXIDE, FRAGRANCE, DEHYDROACETIC ACID, TOCOPHEROL, LINALOOL, LIMONENE, CITRONELLOL, CINNAMAL

#Velvet PK005 Push Fuchsia : POLYGLYCERYL-2 TRIISOSTEARATE, VINYL DIMETHICONE/METHICONE SILSESQUIOXANE CROSSPOLYMER, DICAPRYLYL CARBONATE, DIMETHICONE, ISONONYL ISONONANOATE, RED 28 LAKE (CI 45410), POLYETHYLENE, SYNTHETIC WAX, TITANIUM DIOXIDE (CI 77891), RED 7 LAKE (CI 15850), SILICA, SORBITAN SESQUIOLEATE, CALCIUM CARBONATE, MICROCRYSTALLINE WAX, POLYGLYCERYL-6 POLYRICINOLEATE, DIMETHICONE CROSSPOLYMER, ETHYLENE/PROPYLENE COPOLYMER, YELLOW 5 LAKE (CI 19140), DIISOSTEARYL MALATE, FRAGRANCE, DEHYDROACETIC ACID, BLUE 1 LAKE (CI 42090), TOCOPHEROL, LINALOOL, LIMONENE, CITRONELLOL, CINNAMAL

#Velvet PK004 Wild Flower : VINYL DIMETHICONE/METHICONE SILSESQUIOXANE CROSSPOLYMER, POLYGLYCERYL-2 TRIISOSTEARATE, DICAPRYLYL CARBONATE, DIMETHICONE, ISONONYL ISONONANOATE, TITANIUM DIOXIDE (CI 77891), POLYETHYLENE, SYNTHETIC WAX, RED 7 LAKE (CI 15850), YELLOW 5 LAKE (CI 19140), SILICA, SORBITAN SESQUIOLEATE, CALCIUM CARBONATE, MICROCRYSTALLINE WAX, POLYGLYCERYL-6 POLYRICINOLEATE, DIMETHICONE CROSSPOLYMER, ETHYLENE/PROPYLENE COPOLYMER, DIISOSTEARYL MALATE, FRAGRANCE, BLUE 1 LAKE (CI 42090), DEHYDROACETIC ACID, TOCOPHEROL, LINALOOL, LIMONENE, CITRONELLOL, CINNAMAL

#Velvet BR406 Halo Halloween : VINYL DIMETHICONE/METHICONE SILSESQUIOXANE CROSSPOLYMER, POLYGLYCERYL-2 TRIISOSTEARATE, DICAPRYLYL CARBONATE, DIMETHICONE, ISONONYL ISONONANOATE, POLYETHYLENE, TITANIUM DIOXIDE (CI 77891), SYNTHETIC WAX, IRON OXIDES (CI 77491), DIISOSTEARYL MALATE, RED 7 LAKE (CI 15850), SILICA, SORBITAN SESQUIOLEATE, CALCIUM CARBONATE, MICROCRYSTALLINE WAX, POLYGLYCERYL-6 POLYRICINOLEATE, DIMETHICONE CROSSPOLYMER, ETHYLENE/PROPYLENE COPOLYMER, BLUE 1 LAKE (CI 42090), FRAGRANCE, DEHYDROACETIC ACID, TOCOPHEROL, LINALOOL, LIMONENE, CITRONELLOL, CINNAMAL

#Velvet RD301 Burning Fire : POLYGLYCERYL-2 TRIISOSTEARATE, VINYL DIMETHICONE/METHICONE SILSESQUIOXANE CROSSPOLYMER, DICAPRYLYL CARBONATE, DIMETHICONE, ISONONYL ISONONANOATE, POLYETHYLENE, SYNTHETIC WAX, RED 28 LAKE (CI 45410), RED 7 LAKE (CI 15850), YELLOW 5 LAKE (CI 19140), SILICA, SORBITAN SESQUIOLEATE, CALCIUM CARBONATE, MICROCRYSTALLINE WAX, POLYGLYCERYL-6 POLYRICINOLEATE, DIMETHICONE CROSSPOLYMER, ETHYLENE/PROPYLENE COPOLYMER, RED 6 (CI 15850), FRAGRANCE, DEHYDROACETIC ACID, TOCOPHEROL, LINALOOL, LIMONENE, CITRONELLOL, CINNAMAL

#Velvet PK006 Visual Center : POLYGLYCERYL-2 TRIISOSTEARATE, VINYL DIMETHICONE/METHICONE SILSESQUIOXANE CROSSPOLYMER, DICAPRYLYL CARBONATE, DIMETHICONE, ISONONYL ISONONANOATE, RED 28 LAKE (CI 45410), POLYETHYLENE, SYNTHETIC WAX, TITANIUM DIOXIDE (CI 77891), RED 6 (CI 15850), SILICA, SORBITAN SESQUIOLEATE, CALCIUM CARBONATE, MICROCRYSTALLINE WAX, POLYGLYCERYL-6 POLYRICINOLEATE, DIMETHICONE CROSSPOLYMER, ETHYLENE/PROPYLENE COPOLYMER, FRAGRANCE, RED 7 LAKE (CI 15850), DEHYDROACETIC ACID, TOCOPHEROL, LINALOOL, LIMONENE, CITRONELLOL, CINNAMAL

#Velvet OR204 Pink Muhly : VINYL DIMETHICONE/METHICONE SILSESQUIOXANE CROSSPOLYMER, POLYGLYCERYL-2 TRIISOSTEARATE, DICAPRYLYL CARBONATE, DIMETHICONE, TITANIUM DIOXIDE (CI 77891), ISONONYL ISONONANOATE, POLYETHYLENE, SYNTHETIC WAX, YELLOW 5 LAKE (CI 19140), SILICA, SORBITAN SESQUIOLEATE, CALCIUM CARBONATE, MICROCRYSTALLINE WAX, POLYGLYCERYL-6 POLYRICINOLEATE, RED 6 (CI 15850), RED 7 LAKE (CI 15850), DIMETHICONE CROSSPOLYMER, ETHYLENE/PROPYLENE COPOLYMER, DIISOSTEARYL MALATE, TITANIUM/TITANIUM DIOXIDE, FRAGRANCE, DEHYDROACETIC ACID, TOCOPHEROL, LINALOOL, LIMONENE, CITRONELLOL, CINNAMAL

#Velvet OR205 Peach on Top : POLYGLYCERYL-2 TRIISOSTEARATE, VINYL DIMETHICONE/METHICONE SILSESQUIOXANE CROSSPOLYMER, DICAPRYLYL CARBONATE, DIMETHICONE, ISONONYL ISONONANOATE, TITANIUM DIOXIDE (CI 77891), POLYETHYLENE, SYNTHETIC WAX, YELLOW 5 LAKE (CI 19140), RED 6 (CI 15850), SILICA, SORBITAN SESQUIOLEATE, RED 7 LAKE (CI 15850), CALCIUM CARBONATE, MICROCRYSTALLINE WAX, POLYGLYCERYL-6 POLYRICINOLEATE, DIMETHICONE CROSSPOLYMER, ETHYLENE/PROPYLENE COPOLYMER, FRAGRANCE, DEHYDROACETIC ACID, DIISOSTEARYL MALATE, TITANIUM/TITANIUM DIOXIDE, TOCOPHEROL, LINALOOL, LIMONENE, CITRONELLOL, CINNAMAL

#Velvet OR202 Mandarin Peach : POLYGLYCERYL-2 TRIISOSTEARATE, VINYL DIMETHICONE/METHICONE SILSESQUIOXANE CROSSPOLYMER, DICAPRYLYL CARBONATE, DIMETHICONE, ISONONYL ISONONANOATE, TITANIUM DIOXIDE (CI 77891), POLYETHYLENE, SYNTHETIC WAX, YELLOW 5 LAKE (CI 19140), SILICA, SORBITAN SESQUIOLEATE, CALCIUM CARBONATE, MICROCRYSTALLINE WAX, POLYGLYCERYL-6 POLYRICINOLEATE, RED 7 LAKE (CI 15850), RED 6 (CI 15850), DIMETHICONE CROSSPOLYMER, ETHYLENE/PROPYLENE COPOLYMER, FRAGRANCE, DEHYDROACETIC ACID, DIISOSTEARYL MALATE, TITANIUM/TITANIUM DIOXIDE, TOCOPHEROL, LINALOOL, LIMONENE, CITRONELLOL, CINNAMAL

#Velvet OR203 Sugar Whip : VINYL DIMETHICONE/METHICONE SILSESQUIOXANE CROSSPOLYMER, POLYGLYCERYL-2 TRIISOSTEARATE, DICAPRYLYL CARBONATE, TITANIUM DIOXIDE (CI 77891), DIMETHICONE, ISONONYL ISONONANOATE, POLYETHYLENE, SYNTHETIC WAX, YELLOW 5 LAKE (CI 19140), SILICA, SORBITAN SESQUIOLEATE, CALCIUM CARBONATE, MICROCRYSTALLINE WAX, POLYGLYCERYL-6 POLYRICINOLEATE, RED 6 (CI 15850), DIMETHICONE CROSSPOLYMER, ETHYLENE/PROPYLENE COPOLYMER, RED 7 LAKE (CI 15850), FRAGRANCE, DEHYDROACETIC ACID, TOCOPHEROL, LINALOOL, LIMONENE, CITRONELLOL, CINNAMAL

#Velvet BE102 Darling Beige : VINYL DIMETHICONE/METHICONE SILSESQUIOXANE CROSSPOLYMER, POLYGLYCERYL-2 TRIISOSTEARATE, DICAPRYLYL CARBONATE, DIMETHICONE, ISONONYL ISONONANOATE, TITANIUM DIOXIDE (CI 77891), POLYETHYLENE, SYNTHETIC WAX, YELLOW 5 LAKE (CI 19140), SILICA, SORBITAN SESQUIOLEATE, CALCIUM CARBONATE, MICROCRYSTALLINE WAX, POLYGLYCERYL-6 POLYRICINOLEATE, DIMETHICONE CROSSPOLYMER, ETHYLENE/PROPYLENE COPOLYMER, RED 6 (CI 15850), RED 7 LAKE (CI 15850), DIISOSTEARYL MALATE, TITANIUM/TITANIUM DIOXIDE, FRAGRANCE, DEHYDROACETIC ACID, TOCOPHEROL, LINALOOL, LIMONENE, CITRONELLOL, CINNAMAL

#Velvet OR206 Captain Candy : POLYGLYCERYL-2 TRIISOSTEARATE, VINYL DIMETHICONE/METHICONE SILSESQUIOXANE CROSSPOLYMER, DICAPRYLYL CARBONATE, DIMETHICONE, ISONONYL ISONONANOATE, TITANIUM DIOXIDE (CI 77891), POLYETHYLENE, SYNTHETIC WAX, RED 28 LAKE (CI 45410), YELLOW 5 LAKE (CI 19140), SILICA, SORBITAN SESQUIOLEATE, CALCIUM CARBONATE, MICROCRYSTALLINE WAX, POLYGLYCERYL-6 POLYRICINOLEATE, RED 6 (CI 15850), DIMETHICONE CROSSPOLYMER, ETHYLENE/PROPYLENE COPOLYMER, RED 7 LAKE (CI 15850), FRAGRANCE, DEHYDROACETIC ACID, TOCOPHEROL, LINALOOL, LIMONENE, CITRONELLOL, CINNAMAL

#Velvet BE103 Kinda Nude : VINYL DIMETHICONE/METHICONE SILSESQUIOXANE CROSSPOLYMER, POLYGLYCERYL-2 TRIISOSTEARATE, DICAPRYLYL CARBONATE, TITANIUM DIOXIDE (CI 77891), DIMETHICONE, ISONONYL ISONONANOATE, POLYETHYLENE, SYNTHETIC WAX, YELLOW 5 LAKE (CI 19140), SILICA, SORBITAN SESQUIOLEATE, CALCIUM CARBONATE, MICROCRYSTALLINE WAX, POLYGLYCERYL-6 POLYRICINOLEATE, IRON OXIDES (CI 77491), DIMETHICONE CROSSPOLYMER, ETHYLENE/PROPYLENE COPOLYMER, RED 7 LAKE (CI 15850), RED 6 (CI 15850), DIISOSTEARYL MALATE, TITANIUM/TITANIUM DIOXIDE, FRAGRANCE, DEHYDROACETIC ACID, TOCOPHEROL, LINALOOL, LIMONENE, CITRONELLOL, CINNAMAL

#Velvet RD302 Oh Ruby : POLYGLYCERYL-2 TRIISOSTEARATE, VINYL DIMETHICONE/METHICONE SILSESQUIOXANE CROSSPOLYMER, DICAPRYLYL CARBONATE, DIMETHICONE, ISONONYL ISONONANOATE, POLYETHYLENE, SYNTHETIC WAX, YELLOW 5 LAKE (CI 19140), RED 7 LAKE (CI 15850), RED 28 LAKE (CI 45410), SILICA, SORBITAN SESQUIOLEATE, CALCIUM CARBONATE, TITANIUM DIOXIDE (CI 77891), POLYGLYCERYL-6 POLYRICINOLEATE, MICROCRYSTALLINE WAX, YELLOW 6 LAKE (CI 15985), DIMETHICONE CROSSPOLYMER, ETHYLENE/PROPYLENE COPOLYMER, DIISOSTEARYL MALATE, TITANIUM/TITANIUM DIOXIDE, FRAGRANCE, DEHYDROACETIC ACID, TOCOPHEROL, LINALOOL, LIMONENE, CITRONELLOL, CINNAMAL

#Velvet BR405 Mauve on : VINYL DIMETHICONE/METHICONE SILSESQUIOXANE CROSSPOLYMER, POLYGLYCERYL-2 TRIISOSTEARATE, DICAPRYLYL CARBONATE, DIMETHICONE, ISONONYL ISONONANOATE, TITANIUM DIOXIDE (CI 77891), POLYETHYLENE, SYNTHETIC WAX, YELLOW 5 LAKE (CI 19140), IRON OXIDES (CI 77491), SILICA, SORBITAN SESQUIOLEATE, CALCIUM CARBONATE, DIISOSTEARYL MALATE, RED 7 LAKE (CI 15850), MICROCRYSTALLINE WAX, POLYGLYCERYL-6 POLYRICINOLEATE, DIMETHICONE CROSSPOLYMER, ETHYLENE/PROPYLENE COPOLYMER, BLUE 1 LAKE (CI 42090), TITANIUM/TITANIUM DIOXIDE, FRAGRANCE, DEHYDROACETIC ACID, TOCOPHEROL, LINALOOL, LIMONENE, CITRONELLOL, CINNAMAL

#Velvet BR403 Chilling Chili : POLYGLYCERYL-2 TRIISOSTEARATE, VINYL DIMETHICONE/METHICONE SILSESQUIOXANE CROSSPOLYMER, DICAPRYLYL CARBONATE, DIMETHICONE, ISONONYL ISONONANOATE, IRON OXIDES (CI 77491), POLYETHYLENE, SYNTHETIC WAX, YELLOW 5 LAKE (CI 19140), SILICA, SORBITAN SESQUIOLEATE, CALCIUM CARBONATE, RED 7 LAKE (CI 15850), TITANIUM DIOXIDE (CI 77891), MICROCRYSTALLINE WAX, POLYGLYCERYL-6 POLYRICINOLEATE, DIMETHICONE CROSSPOLYMER, ETHYLENE/PROPYLENE COPOLYMER, FRAGRANCE, DEHYDROACETIC ACID, TOCOPHEROL, LINALOOL, LIMONENE, CITRONELLOL, CINNAMAL

#Velvet BE119 Orange Bianco : POLYGLYCERYL-2 TRIISOSTEARATE, VINYL DIMETHICONE/METHICONE SILSESQUIOXANE CROSSPOLYMER, DICAPRYLYL CARBONATE, DIMETHICONE, ISONONYL ISONONANOATE, IRON OXIDES (CI 77491), POLYETHYLENE, TITANIUM DIOXIDE (CI 77891), SYNTHETIC WAX, SILICA, SORBITAN SESQUIOLEATE, YELLOW 5 LAKE (CI 19140), CALCIUM CARBONATE, MICROCRYSTALLINE WAX, POLYGLYCERYL-6 POLYRICINOLEATE, DIMETHICONE CROSSPOLYMER, ETHYLENE/PROPYLENE COPOLYMER, DIISOSTEARYL MALATE, TITANIUM/TITANIUM DIOXIDE, FRAGRANCE, DEHYDROACETIC ACID, TOCOPHEROL, LINALOOL, LIMONENE, CITRONELLOL, CINNAMAL

#Velvet PK007 Pink Brownie : POLYGLYCERYL-2 TRIISOSTEARATE, VINYL DIMETHICONE/METHICONE SILSESQUIOXANE CROSSPOLYMER, DICAPRYLYL CARBONATE, DIMETHICONE, ISONONYL ISONONANOATE, TITANIUM DIOXIDE (CI 77891), POLYETHYLENE, SYNTHETIC WAX, YELLOW 5 LAKE (CI 19140), SILICA, SORBITAN SESQUIOLEATE, CALCIUM CARBONATE, POLYGLYCERYL-6 POLYRICINOLEATE, MICROCRYSTALLINE WAX / CERA MICROCRISTALLINA / CIRE MICROCRISTALLINE, RED 7 LAKE (CI 15850), IRON OXIDES (CI 77491), ETHYLENE/PROPYLENE COPOLYMER, DIMETHICONE CROSSPOLYMER, DIISOSTEARYL MALATE, TITANIUM/TITANIUM DIOXIDE, FRAGRANCE / PARFUM, DEHYDROACETIC ACID, TOCOPHEROL, BHT

#Velvet OR207 Orange Boom : POLYGLYCERYL-2 TRIISOSTEARATE, VINYL DIMETHICONE/METHICONE SILSESQUIOXANE CROSSPOLYMER, DICAPRYLYL CARBONATE, DIMETHICONE, ISONONYL ISONONANOATE, POLYETHYLENE, YELLOW 6 LAKE (CI 15985), SYNTHETIC WAX, TITANIUM DIOXIDE (CI 77891), RED 28 LAKE (CI 45410), SILICA, SORBITAN SESQUIOLEATE, YELLOW 5 LAKE (CI 19140), CALCIUM CARBONATE, POLYGLYCERYL-6 POLYRICINOLEATE, MICROCRYSTALLINE WAX / CERA MICROCRISTALLINA / CIRE MICROCRISTALLINE, ETHYLENE/PROPYLENE COPOLYMER, DIMETHICONE CROSSPOLYMER, FRAGRANCE / PARFUM, RED 7 LAKE (CI 15850), DIISOSTEARYL MALATE, TITANIUM/TITANIUM DIOXIDE, DEHYDROACETIC ACID, TOCOPHEROL, BHT

#Velvet OR208 Amber Lover : POLYGLYCERYL-2 TRIISOSTEARATE, VINYL DIMETHICONE/METHICONE SILSESQUIOXANE CROSSPOLYMER, DICAPRYLYL CARBONATE, DIMETHICONE, ISONONYL ISONONANOATE, POLYETHYLENE, IRON OXIDES (CI 77491), SYNTHETIC WAX, YELLOW 5 LAKE (CI 19140), RED 28 LAKE (CI 45410), SILICA, SORBITAN SESQUIOLEATE, CALCIUM CARBONATE, TITANIUM DIOXIDE (CI 77891), POLYGLYCERYL-6 POLYRICINOLEATE, MICROCRYSTALLINE WAX / CERA MICROCRISTALLINA / CIRE MICROCRISTALLINE, ETHYLENE/PROPYLENE COPOLYMER, DIMETHICONE CROSSPOLYMER, FRAGRANCE / PARFUM, RED 7 LAKE (CI 15850), DEHYDROACETIC ACID, TOCOPHEROL, BHT

#Velvet RD304 Fruit Chili : DIMETHICONE, DIMETHICONE/VINYL DIMETHICONE CROSSPOLYMER, TRIDECYL TRIMELLITATE, POLYETHYLENE, POLYGLYCERYL-2, TRIISOSTEARATE, PH

#Velvet BR407 Rosy Chili : DIMETHICONE, DIMETHICONE/VINYL DIMETHICONE CROSSPOLYMER, TRIDECYL TRIMELLITATE, POLYETHYLENE, IRON OXIDES (CI 77491),, PHENYL TR

#Velvet PK008 Heart Chili : DIMETHICONE, DIMETHICONE/VINYL DIMETHICONE CROSSPOLYMER, POLYETHYLENE, TRIDECYL TRIMELLITATE, PHENYL TRIMETHICONE,, TITANIUM DIO