DESCRIPTION
COLOR SYSTEM
HOW TO USE

Description
Apricot Stick Gloss for moist and fruity lips.
Directions
Apply evenly on bare lips. Do not dispense the product too much to prevent breakage.
Caution
1. Use only as directed.
2. Avoid storing in high and low temperatures and areas exposed to direct sunlight.
3. Cease use if problems arise.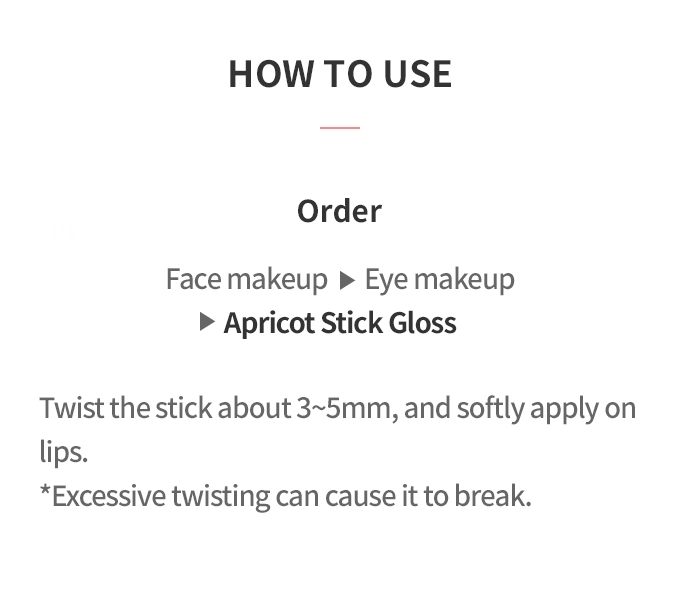 Details
| | |
| --- | --- |
| Weight (g) | 9 |
| Size | 0.07 oz. / 2 g |
| INGREDIENTS | |
Customer Reviews
LOCATION:

United States

SKIN TYPE:

Dry

EYES COLOR:

Brown

SKIN TONE:

Medium

AGES:

19 ~ 24

Its so nice! Its not super glossy its like perfect amount of gloss, I love the scent too. Nice and subtle. I use it on my cheeks for blush too and its great! I would definitely recommend. Im buying another for my sister as well.

LOCATION:

United States

SKIN TYPE:

EYES COLOR:

SKIN TONE:

AGES:

I would not buy for over that. It is the same as drug store regular color balm, but in a smaller container.

LOCATION:

United States

SKIN TYPE:

EYES COLOR:

SKIN TONE:

AGES:

I have several of these but my favorite is 8. It is moisturizing and adds a healthy sheer red look to my lips. I have ordered and finished two 8 so far.

LOCATION:

Mexico

SKIN TYPE:

Combination

EYES COLOR:

Brown

SKIN TONE:

Medium

AGES:

19 ~ 24

Great for a soft gloss touch. Color is natural looking and it leaves lips smooth and moisturized.

LOCATION:

Brazil

SKIN TYPE:

Dry

EYES COLOR:

Brown

SKIN TONE:

Light

AGES:

19 ~ 24

I use this lipstick everyday It gives a natural look to the lips and keep them mosturized Great color Great formula

LOCATION:

SKIN TYPE:

EYES COLOR:

SKIN TONE:

AGES:

I have #3 & #7 and I love both of them very much. The color is so natural and looks very glossy on lips. It smells sweet and glides on lips smoothly. I wish they are more colors available. Great product! Highly recommended!

LOCATION:

SKIN TYPE:

EYES COLOR:

SKIN TONE:

AGES:

Forgot to mention in my previous review that this product is actually very glossy which is a good point. I definitely recommend people to buy this product. You'll be amazed with the quality :)!

LOCATION:

SKIN TYPE:

EYES COLOR:

SKIN TONE:

AGES:

Smells amazing! Has a nice, natural-looking, soft colour. Best of all it has a reasonable price for it. Will definitely purchase again.

LOCATION:

SKIN TYPE:

EYES COLOR:

SKIN TONE:

AGES:

I really like the color! It even looks good with my pale complexion and it stays on pretty long too, also nice smell. It doesn't dry up my lips like other glosses.

LOCATION:

SKIN TYPE:

EYES COLOR:

SKIN TONE:

AGES:

i love it bcoz its abit glossy and moisture, it wont dry my lips. Easy to bring it anywhere. Return for it 3 time ady~

LOCATION:

SKIN TYPE:

EYES COLOR:

SKIN TONE:

AGES:

Smells really good, more like a chap stick with color or tint. Looks natural specially if you just dab some on your center lips.

LOCATION:

SKIN TYPE:

EYES COLOR:

SKIN TONE:

AGES:

Nice color, nice packaging and nice perfume. I really like it, my lips look so smooth with it! I'm glad with this product

LOCATION:

SKIN TYPE:

EYES COLOR:

SKIN TONE:

AGES:

Although this item it was suppose to be a lip gloss but it serve more like a chap-stick when you put it on which is the reason why I love it. It's a good quality lip gloss for a good price. Good for those who are like me who doesn't really like sticky lip gloss.

LOCATION:

SKIN TYPE:

EYES COLOR:

SKIN TONE:

AGES:

J'ai la couleur 3 et 8, ils sont bien pigmentés, ne collent pas et ont un petit format passe partout, juste dommage qu'il n'y est pas plus de couleurs disponible