DESCRIPTION
COLOR SYSTEM
HOW TO USE


What it is
The spot treatment product soothes problem areas intensively and fast.
---
How to apply

Without shaking the container, insert a clean cotton swab into the container, dab the pink powder set on the bottom, and apply on skin with problems in dots.
---
Caution
1. Use only as directed.
2. Avoid storing in high/low temperatures or in areas exposed to direct sunlight.
3. Stop using if it causes any allergic reaction or any problems arising.
See more pictures: https://www.instagram.com/etudehouseofficial/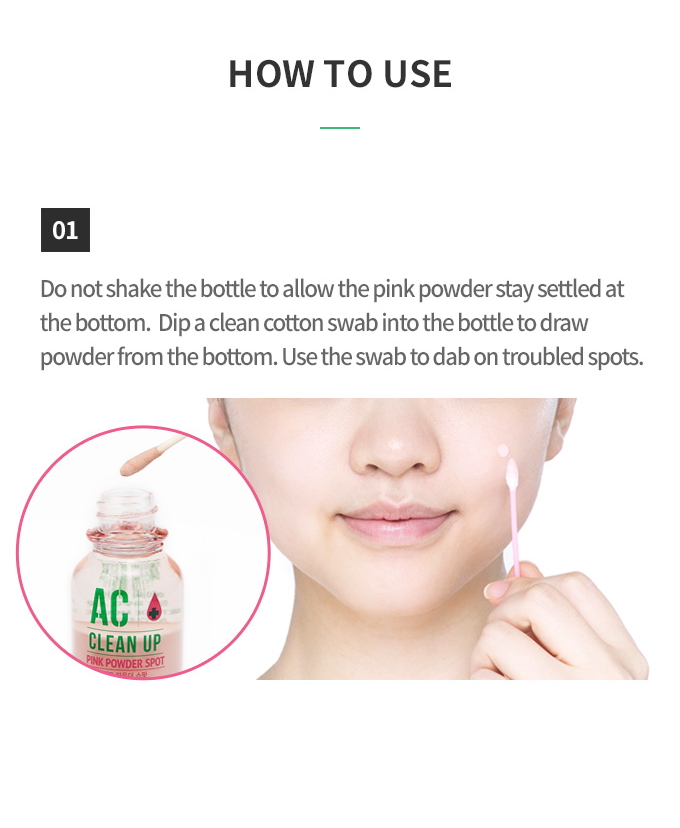 Details
| | |
| --- | --- |
| Weight (g) | 66 |
| Size | 15ml |
| INGREDIENTS | |
Customer Reviews
LOCATION:

Mexico

SKIN TYPE:

Combination

EYES COLOR:

Brown

SKIN TONE:

Light

AGES:

Under 18

Me ayuda demasiado con mis granitos y me los seca rapido lo recomiendo mucho

LOCATION:

United States

SKIN TYPE:

Oily

EYES COLOR:

Brown

SKIN TONE:

AGES:

19 ~ 24

I used this product when I am breaking out a lot and it really shrinks my acne and helps with them. I highly recommend.

LOCATION:

Mexico

SKIN TYPE:

Normal

EYES COLOR:

Brown

SKIN TONE:

Light

AGES:

25 ~ 34

Yo no sufro de acne pero si me salen granitos cada vez que tengo mi periodo y con este producto desaparecen A mi me gusta sacarme el granito y despues aplicarme el producto siento que se secan mas rapido y gracias a este producto no me quedan manchas ni marcas definitivamente no me arrepiento

LOCATION:

SKIN TYPE:

EYES COLOR:

SKIN TONE:

AGES:

It's a very good product even if I had trouble for use it at first :') It took time because it wasn't explain clearly. Now I understand and it's super effective, in not even 4 days I see the difference. I've got a spot who where on my skin for week, after two use of this, it's disapear. If you got spot problem : use it. I will recommend it to my friends.

LOCATION:

SKIN TYPE:

EYES COLOR:

SKIN TONE:

AGES:

I get acne during time of the month. As soon as I feel one coming, i just dab the area with this and the next day, it just went away. Same with my husband, he always have trouble skin and whenever there's pimple and he applied this, it deflate the pimple and goes away in a day or 2. It just does wonders and we both have sensitive skin

LOCATION:

SKIN TYPE:

EYES COLOR:

SKIN TONE:

AGES:

it does dry out the pimple over night but only the big nasty ones.

LOCATION:

SKIN TYPE:

EYES COLOR:

SKIN TONE:

AGES:

I started using this product and I noticed changes in a couple of days. I use it every night before going to sleep. It really does wonders overnight.

LOCATION:

SKIN TYPE:

EYES COLOR:

SKIN TONE:

AGES:

I bought this product when I was in South Korea. It extremely helped my skin to reduce the blemishes and acne. Highly recommended!~